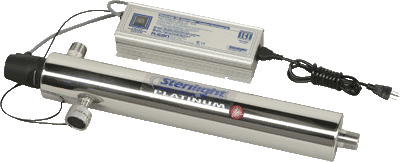 SP410-HW
The Sterilight SP410-HW provides protection for legionella control in warm or hot water distribution systems as well as for recirculation loops in cooling tower applications at a flow rate of 12.0 gpm (45.4 lpm). Based on our successful NSF validated Platinum™ systems, this modular system offers a compact and simple to use approach for legionella control.

The SP410-HW comes with the feature-laden Platinum™ controller coupled with the Flow-Pace™ UV intensity monitor. This combination allows for 2-stage flow pacing whereby half-power is provided to the lamps in conditions of no flow and full-power when the water is running. This allows the system to operate with minimal power requirements and reduced heat build-up. The Platinum™ controller provides constant output current and a universal power input (100-250V./50-60Hz.), as well as visually displaying % UV intensity, remaining lamp life and total hours of operation. The system comes with a set of dry contacts allowing for the external hook-up of a remote device such as a solenoid valve. Using high-output, Sterilume™-HO coated low pressure germicidal UV lamps coupled with 304 stainless steel, axial flow reactors, the Platinum systems offer a compact installation footprint, yet provides a high flow throughput.

The SP410-HW is manufactured with a polished, 316L stainless steel, axial flow reactor and comes with unique combination ports with a 1" MNPT thread on the outside and a ¾ " FNPT thread on the inside. Quality is evident throughout the Platinum platform ranging from domed quartz sleeves with fire-polished ends to seamless connections. Using high-output Sterilume™-HO coated low pressure germicidal UV lamps, these systems provide an economical way of treating legionella borne waters. Lamp change is easily accomplished without interrupting the water flow, or having to drain the reactor and the overmoulded connector can be removed without any additional tools.

Sterilight's "speed of light" disinfection substantially decreases the use of biocides that are traditionally used in these applications. UV is safe, simple and easy to service and is operated on literally pennies a day. There is no better ecological way of treating your water than with a Sterilight UV disinfection system.