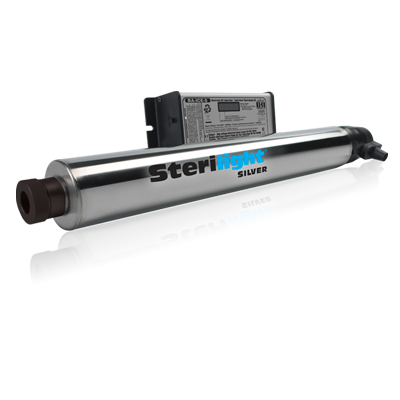 SQ-PA / S8Q-PA
This modular line of ultraviolet disinfection systems can be used in a myriad of applications where flexibility and pricing sensitivity is an deciding factor. The small SQ-PA through S2Q-PA systems are ideally suited for point-of-use filtration, RO pre or post disinfection, while the larger S5Q-PA and S8Q-PA systems can be used on a point-of-entry (whole home) system disinfection the water for an entire home or cottage. The low pressure germicidal lamps provide an economical way of treating water requiring a 99.99% reduction in bacteria and viruses.

This process is accomplished without adding any potentially harmful chemicals to your drinking water. Sterilight is the most ecological way of treating your water.......and all this just for pennies a day!

These simplistic designs allows for easy homeowner maintenance. The UV lamp can be changed without interrupting the water flow. The quartz sleeve design allows for maximum UV output and operating efficiency.
System
flow rates of 2 L/min (1/2 gpm) in clear fresh water
flow rates of 4 L/min (1 gpm) in clear fresh water
flow rates of 7.5 L/min (2 gpm) in clear fresh water
flow rates of 19 L/min (5 gpm) in clear fresh water
flow rates of 30L/min (8 gpm) in clear fresh water
NEW electronic "ICE" ballasts featuring open loop current control (patent pending), ballast features IEC connector, audible alarm & power-on indicator
hard glass, low pressure mercury vapour lamps with high isolation pin design
quick-lock moulded lamp connector
compact design incorporating 304 stainless steel reactor chambers, brilliantly polished for laboratory or medical applications
easy servicing - no need to disconnect water flow to change UV lamp
open end quartz sleeves and aluminum gland nuts for optimum operating temperature and sealing efficiency
99.99% destruction of bacteria, virus, and protozoan cysts (Giardia lamblia & cryptosporidium) at rated flow
natures way to protect your water without the addition of harmful chemicals
includes mounting clamp
seven year warranty on reactor chamber for unparalleled protection
product certified by CSA (C US) and CE