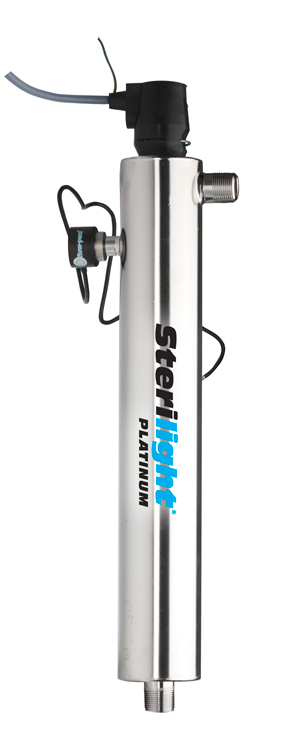 PLATINUM (NSF CERTIFIED)
The new Sterilight Platinum "SPV" series carry NSF/ANSI Standard 55, Class A certification. A total of eight systems are available with flow rates from 1.5 to 20 gpm. Whether you are looking for a point-of-use disinfection system or a high-flow point-of-entry system, Sterilight's "SPV" Platinum systems have you covered.

These validated systems carry a 40 mJ/cm2 UV dose at the alarm set-point as dictated by NSF/ANSI Standard 55 test protocol. Systems offer a 4-log reduction (99.99%) in bacteria, virus and protozoan cysts (Giardia lamblia and Cryptosporidium).

The Sterilight process is quick, simple, inexpensive and environmentally friendly as it does not add anything to your water and creates no disinfection by-products. Sterilight is the most ecological way of treating your water.......and all this for just pennies a day!

Applications include private wells, camp grounds, hotels, bottlers, aquaculture, hospitals, food, cottages, restaurants, breweries, water systems, laboratories, marine, pharmaceutical, dairies and many other applications.
System
flow rates of 1.5, 2.5, 3.5, 6, 8, 12, 15, and 20 gpm
high output coated UV lamps
316L stainless steel electropolished axial flow reactors
electronic controller with graphical Smart-SwitchTM interface
2-stage flow pacing with Flow-PaceTM UV sensor
over molded connector with built-in safety interlock switch
NSF/ANSI certified under Standard 55, Class A
316L stainless steel flow restrictors
99.99% destruction of bacteria, virus, and protozoan cysts (Giardia lamblia & Cryptosporidium) at rated flow
natures way to protect your water without the addition of harmful chemicals
seven year warranty on reactor chamber for unparalleled protection
product certified by CSA (C US) and to CE standards
Reactor
Axial flow design reactors (CFD modeled)
Flow distributor washer to redirect water close to the lamp upon exiting the chamber
316L electropolished and passivated
Combination ports (3/4" FNPT / 1" MNPT) on 6 - 20 gpm systems
A249/A269 pressure rated tube