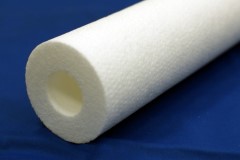 Descargar Ficha PDF
SUPER PLUS
Filtteck has extended its patented melt-blown technology to meet the market requirements for a pure polypropylene depth filter with exceptional dirt-holding capability and performance. The structure of surface cavity, Super-Plus, is and exceptional value for industry applications where long-life, Low pressure drop. and high efficiency is required.
Features & Benefits
Absolute ratings (absolute rating 99.9% ; ß rate= 1000).
Surface pore structure spreads water flow to reduce pressure drop.
Continuously gradient pore structure increases the capacity of dust.
Surface fiber fortified to prevent fiber releasing.
High strength and pressure resistance.
Micro-denier melt blown filtration fiber, high removal ratings.
100% PP for compatibility with a wide range of process fluids.
Formed by thermal bond without use of any binders and adhesives.
Certificated by NSF42 and FDA CRF Title 21
Operation conditions
Maximum operating pressure drop : 80°C:1.2 kg/cm² 60°C:2.1 kg/cm² 20°C:4.2 kg/cm²
Recommended replaceable pressure drop:2.1 kg/cm²
Maximum operating temperature:80°C
Applications of product
Filtration of cooling water system in semiconductor industry (PCW).
Filtration of CMP Slurries.
Pre-filter of DI water filtration.
Filtration of medium & low viscosity fluids of chemical.
Filtration of water for manufacturing processes and recycled water.
Filtration of paint in panel painting industry.
Product specifications
Micron Ratings : Absolute 1,3,5,10,25,50,75,100 micron
Materials of construction :100% melt-blown micro-denier PP fiber
Length : 10", 20", 30",40"
Inner diameter: 28 mm
Outer diameter: 63 mm